Meet our new Project & Process Manager in Twentyfour, Stefan.
Stefan will be taking care of a number of interesting tasks – including clarifying and planning projects with customers, sales, and developers, allocating development teams in Denmark and abroad, developing internal tools for project management and business processes, and prioritizing deadlines and ongoing quality reviews and customer dialogue. As Stefan is exceptionally good at planning, structuring, and optimization, this is something we are truly looking forward to at Twentyfour! And also, we know he is someone who makes things happen.
When Stefan is asked to describe himself with three words, he says that he is: Curious, result oriented, and a do'er – and this is definitely something we've noticed in the team and Stefan always mentions a bunch of interesting projects at our status meetings.
And, of course, we have to talk about why he is holding a lemon and a passport in the picture.
"The lemon reminds me of summer and sun – and it's the perfect match to a bunch of cocktails, sangria, and an ice-cold coke. Also, my passport is one of my favorite things as it allows me to go on adventures around the world."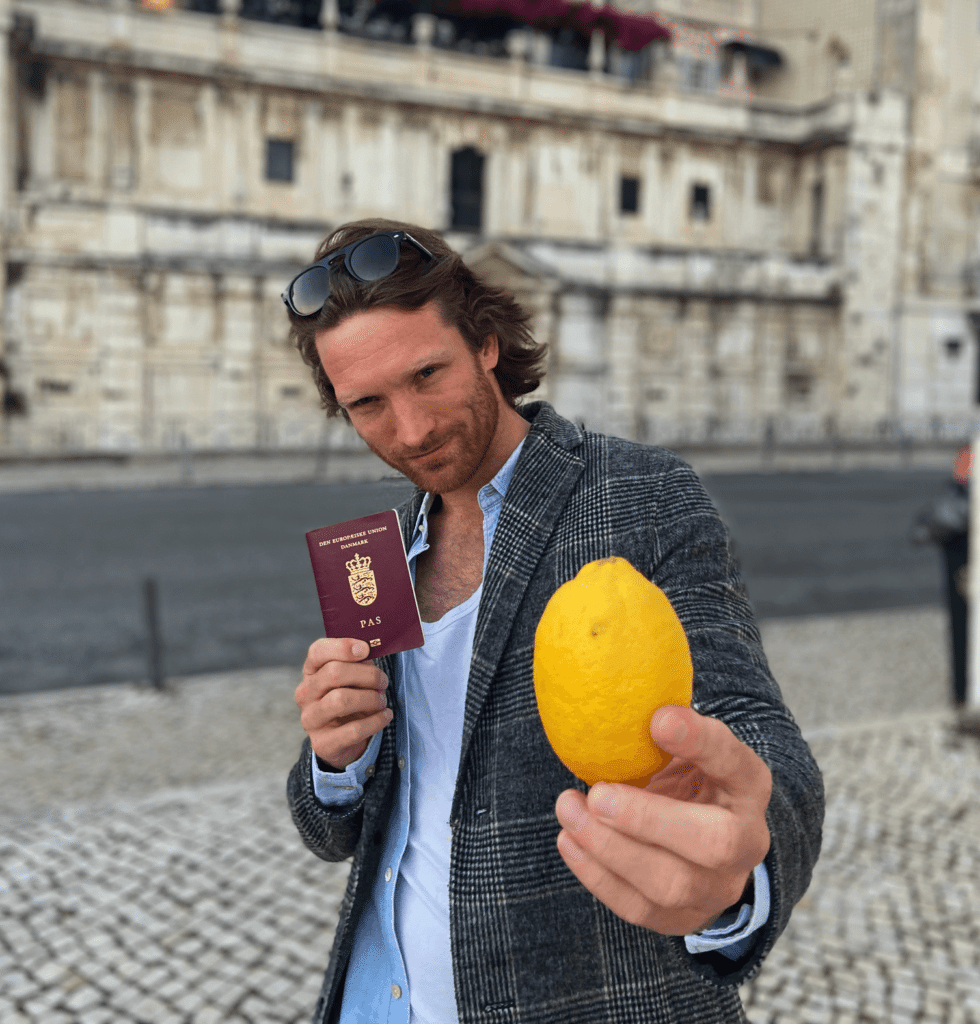 Stefan graduated from CBS as cand.merc. (International Business) in 2012. He also has PRINCE2 Foundation project management from Metier and he will finish a Scrum Master Certification with Metier as well in May 2021. He has worked since he was only 9 years old so he has a lot of experience under his belt.
Previously, Stefan has has imported and distributed a delicious and modern sparkling bottled sangria (which we hope we get to taste someday soon 🍾) as well as co-founded a start-up, which was an on-demand drycleaning and laundry app designed to make life easier for busy Danes by digitizing ordering, customer service, and logistics. He has also worked with business development in an international IT-fitness start-up, business development and marketing at Innovation Center Denmark/Ministry of Foreign Affairs, at the Danish Embassy in Israel, as well as at Dansk biotek, CBS Study Administration, and at the Danish Ministry of Defence Personnel Agency.
NOW, we're looking very much forward to hearing more about his previous positions and having his observant eyes, ears, and thoughts on our processes at Twentyfour.
On Stefan's days off, you'll most likely find him doing something active, such as rollerblading, working out, or climbing – after he has woken up without an alarm and had a nice breakfast or brunch 🥐 Once the active part of the day is over, the rest of the day will be spent in the company of family and friends sharing a nice meal and "one" cocktail.
Welcome to the team, Stefan.