Most people with just a little bit of business knowledge know that good company culture is crucial to having a successful corporate strategy. Company culture can look very different from company to company, depending on size, industry, etc., but some common denominators recur in successful companies. Read along and get our bid on what parameters to consider when creating a solid company culture.
So, what is company culture?
Company culture is "the way we do things". It is a collective term for the norms, values, and actions that characterize a company. They consist of written and unwritten rules, such as tone, language, dress code, appearance, decor, socializing, etc.
The culture is an abstract quantity that all the company's stakeholders constantly influence. Conversely, culture affects both how one acts to each other internally in the organization and the behavior of employees towards customers, partners, and competitors.
What are the advantages of creating and maintaining a strong company culture?
Quite simply, good company culture is a breeding ground for creating the best conditions for your employees and your company's growth. You get:
Happier employees and less stress.
Increased productivity and revenue.
More satisfied customers.
The opportunity to attract skilled employees.
A good atmosphere.
A major study conducted by PWC shows that companies with a healthy culture achieve better business results. The survey also shows that companies that say they have a good company culture are 48% more likely to increase their revenue, 80% are more likely to increase employee satisfaction, and 89% are more likely to increase customer satisfaction than companies that say they don't have a particular focus on company culture.
According to the Haward Business Review, there is a positive correlation between good company culture and productive employees. There are also some common characteristics of employees in companies with a strong culture, e.g., employees feel a high degree of responsibility for their colleagues, they want to inspire each other to work and treat each other with respect, trust, and integrity.
These trends create a clear picture that happy employees will be more productive, ultimately affecting the company's revenue positively.
Company culture vs. values
A Danish article from Alt om Ledelse describes that good company culture is mainly about translating the company's values into action. So, how are the company's philosophy and set of values expressed explicitly among the employees in everyday life?
The company's values aim to elevate culture to a higher level of consciousness. But as an employee, it can be difficult in everyday life to remember the meaning of individual values, such as trust, teamwork, or open communication – no matter how thoroughly described they may be. It can also be difficult for an employee to relate to a set of rules that the person in question was given when hired.
As a leader, you must set a good example. Take the lead and show what you expect from your employees is reflected in you. Furthermore, it is vital that you know and understands the importance of your company's values. These values should be considered regularly as the company and its employees change over time.
The company culture starts with management
As a leader, you shape the company's culture, whether it is conscious or not. With that in mind, why not make a targeted effort to create a world-class work environment?
According to McKinsey, you significantly influence your company's culture as a leader. For example, you can lift the culture by meeting everyone in the company with compassion and sincere curiosity.
Partner and CEO, Rasmus Aagaard, sees great importance in having an informal, casual, and fresh atmosphere in the office. That is in terms of how we dress and talk to each other. Of course, it isn't at the expense of a high degree of professionalism and situational awareness in meeting our many different clients.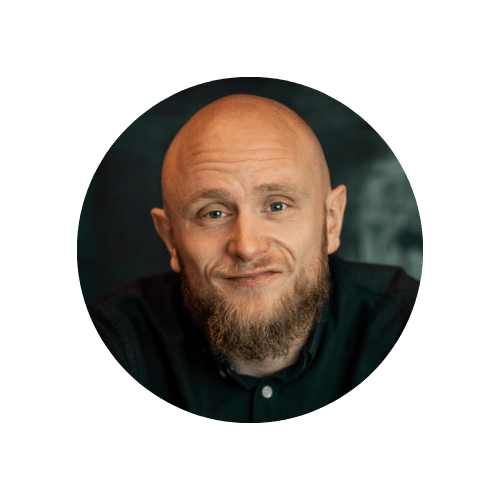 I love when there is energy in a room! In addition, it is crucial to me in my team that there is a completely informal tone. You must be able to say what ypu want, in the tones you want.

Rasmus Bjørn Aagaard, Partner and CEO in Twentyfour
What can you do to influence the company culture as a leader?
Be the leader that others can look up to. It is both in your personality, your way of behaving, and what you express on the various channels. And that requires being present as a leader.
Create a suitable physical environment. Make sure your business has some pleasant settings that express the culture you want to create. Ensure employees are happy when they are at work and have the right things to use.
Show responsibility and trust. Make sure employees are dressed and feel equipped to make the right decisions.
Release the control. Do not set too many frames. As a leader, you must be yourself and show it yo your employees, and then they will automatically do the rest themselves.
Value equals actions. There must be a connection between what you say and what you do.
Prepare your employees to act and take responsibility
Have you heard the old phrase 'freedom under responsibility'? Well, there's something about it. According to Business News Daily, employees with a high degree of freedom are often more committed and happy with their work.
Employees who have the freedom and flexibility to structure their time to match how they work best will have higher productivity than employees who suffer under constant control and orders. It needs to be mentioned that freedom and flexibility among employees can be achieved if they are well prepared for their tasks.
By something as simple as letting employees know for themselves then they need to take a break, you can win big on efficiency because employees get the opportunity to recharge their batteries during the working day and return with renewed energy.
Finally, the employees must work together to accomplish the company's mission and vision! This can be achieved by a company culture built upon open communication, where everyone helps each other across departments, professionalism, and levels. That way, it becomes easier to make good decisions and act on them.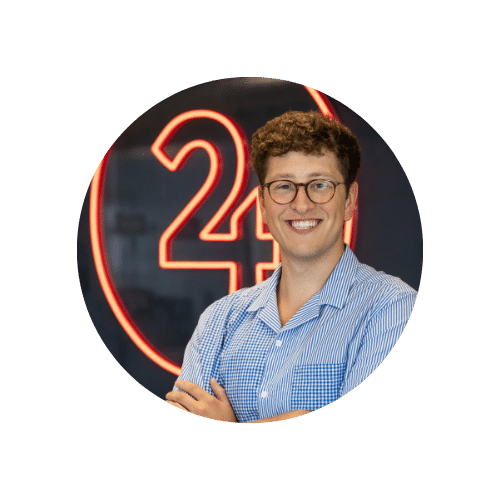 Twentyfour really cares that there are no stupid questions. One can typically be afraid to ask obvious questions as one may appear inexperienced. But at Twentyfour, we go to great lengths to share knowledge so we can elevate each other to a higher level.

Christian Vilen, Account Manager in Twentyfour
Culture as the driver for increased revenue
We know that good company culture is the focal point for a good working environment and happy employees. And how does that relate to a better bottom line?
According to a study by Deloitte, there is a connection between company culture, common goals, and the bottom line. In companies that have clear common goals, 78% of employees are optimistic about the company's culture. On the other hand, it only applies to 32% of employees without clear common goals. The same study also shows that companies with clear common goals are far more likely to invest in initiatives that can create long-term growth.
Another danish article from People Tools shows how job satisfaction contributes to loyal customers and a better bottom line. The report points to a study that shows that when employees have a more positive view of the company than the customers, the company's sales can increase by as much as 16% as the employees' enthusiasm spreads directly to the customers. The article further describes how employees who are happy with their work and reason with the company's mission are excellent ambassadors.
So there is a clear pattern: good company culture means happy and productive employees ⇢ happy employees means satisfied customers ⇢ satisfied customers are loyal customers ⇢ loyal customers means higher turnover!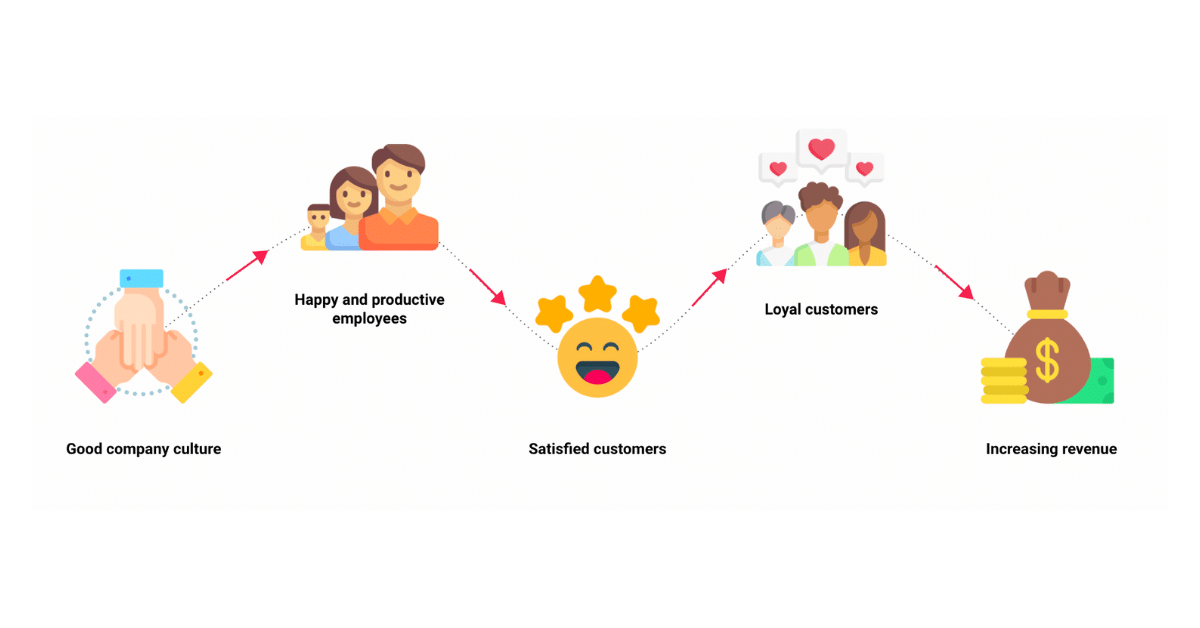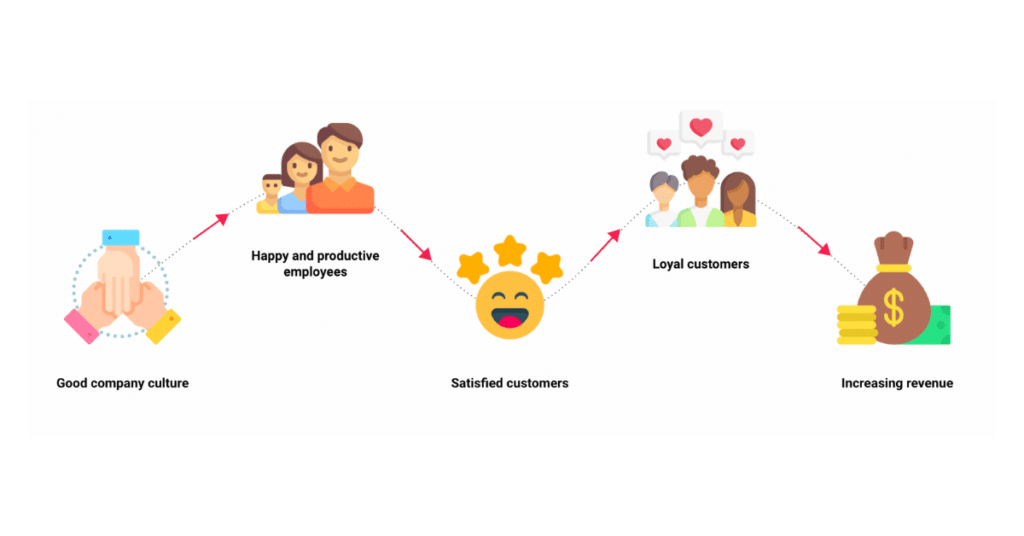 Remember to have fun!
Our work takes up a lot of space, so we must have fun with each other and have a good atmosphere. Both while we work, during our breaks, and preferably outside working hours.
The social aspect is another factor in creating a good company culture. According to Forbes, belonging to a community is a human need and an important motivating factor. Strong social relationships can improve your employees' well-being, making them happier and healthier mentally.
One can strengthen the community and well-being of the employees in many ways! It does not have to be expensive or cumbersome, for example by setting up a football table in the canteen, establishing a running club or arranging a Friday bar now and then. The possibilities are many; it's just about being creative.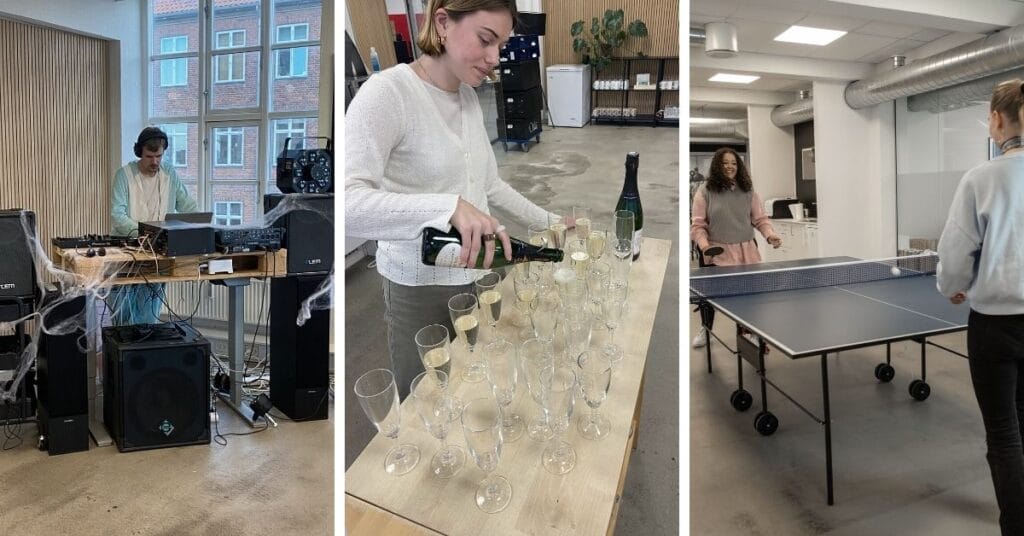 … How to establish a strong company culture – summary:
Motivate your employees and make sure they are proud to be ambassadors for your company.
Management is the prime mover for driving good company culture. Take the lead and reflect the culture you want in the company.
Create a culture where it is well-liked to ask questions, help each other across teams, and make well-considered decisions independently.
Have clear common goals! It unites your employees and creates an atmosphere of standing together strongly.
… and for heaven's sake, remember to have fun! Create more than just a workplace! Create a place where employees want to be social, create relationships and have fun.
Pssst! It doesn't entirely stop here!
Would you also like to hear about how interns are an integral part of the company culture at Twentyfour? Then just read on in the blog post.
Interns: an integral part of our company culture
In Twentyfour, having interns is a big part of our culture. Our experience is that it greatly benefits the company and the students we get on board. We have regular study interns in all departments, both in communications- and marketing, development, design, and sales.
The Business Council has published a page in danish mentioning the significant benefits of having interns. Interns come with the latest knowledge, theory, and method, which means the company can get fresh eyes on issues. Interns can help with tasks that can be difficult to find time for in a busy day. Furthermore, new ideas can be tested, and not least, it can be an opportunity to look at a future employee.
We are busy in Twentyfour, and although there are many benefits to having interns, it also requires resources to build a relevant, complete, educational internship. Therefore, we do a lot to ensure that the interns are the right match before they start. They must be able to work independently and proactively, and in return, we make sure that it is a learning process with relevant tasks and good sparring.
Interns at Twentyfour, like regular employees, go through a series of interviews and cases before the internship contract is signed. Our interns aren't put to make coffee and all our incidental work; they become part of the company equal with our staff.
See here what one of our skilled interns says about being an intern with us;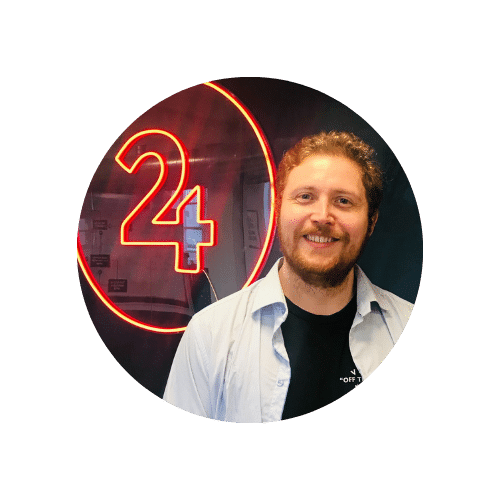 As a multimedia designer in an internship at Twentyfour, my main task is to create content for our customer cases. I expect to have some sharp products I can throw in my portfolio when my course at Twentyfour ends. So far, the coolest experience has been to see how departments work in close collaboration with each other to create results!

Frederik Worm Nørgård, Intern at Communications- and marketing