What is Shopify
Shopify is a user-friendly and flexible webshop system with many advanced extensions and integrations.
The system is excellent for anyone who wants to start a webshop without being able to program.
The webshop contains good tools for keeping track of your customers, products, and orders – and at the same time keeping track of your inventory.
+ 10 million
People use the systems and sites we create for our customers each year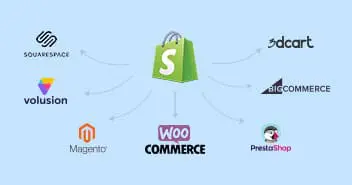 Integration of Shopify and your systems
Most people with a Shopify webshop want an automatic setup where you can transfer orders, products, and customers to their accounts.
Whatever your needs are, our advanced and flexible integration platform can give you a solution that supports your workflow in the business.
At Twentyfour, we have more than 10 years of experience in integrating complex systems. If you want to integrate your accounting system, such as E-conomics, or integrate your package system, such as Pakkelabels, with your Shopify webshop, or another form of integration, then we can help you at Twentyfour.