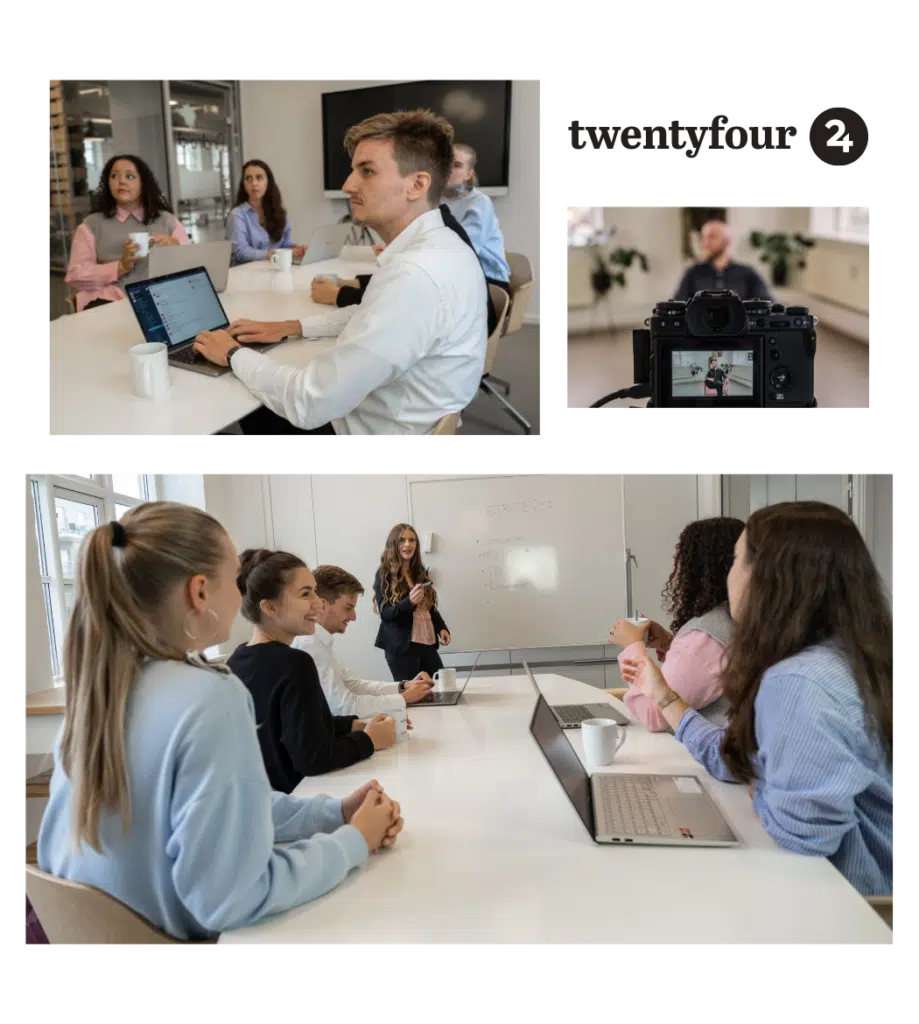 Kickstart your career in marketing
Are you good at communicating, and are you capable of creating digital content that engages across channels? Can you deliver all kinds of relevant messages in both long articles and short posts? And do you think it's great to work with content creation? ????
In Twentyfour, we're on the lookout for a marketing intern for content creation (copywriting, graphic design, and video production) and communication. The position entails supporting and helping our marketing team produce content for all our online channels, hereby social media, blog posts, newsletters, websites, etc.
An internship in marketing at Twentyfour is a great match if you can recognize yourself as a passionate and result-oriented person who plows through when it comes to online marketing, content creation, and communication – in Twentyfour, we run fast and seldom sit still.
About the position as a marketing intern
As a marketing intern, you'll become a part of our small marketing unit. In your internship, you will be working on different tasks within copywriting and content production, social media, blog, newsletter, websites, and other marketing-related stuff.
You must be proactive, strong at communicating, capable of working independently, and detail-oriented when it comes to content creation. Furthermore, you must finish your tasks on time and deliver within deadlines.
Want to be a part of the team?
We are busy and hard-working people, but we also make sure to have fun. We have a great social environment at the office and often challenge each other in foosball or table tennis when the mind needs to relax before the next couple of working tasks.
We arrange social events such as go-karting, Friday bars, paintball, etc. Furthermore, we also have a running club, and sometimes we play padel tennis or soccer together. We offer a wide range of flexibility but expect that you deliver and engage yourself in your work.
How to apply for the position as a marketing intern
To be considered for the position as an intern in our marketing unit, we expect you to apply through TheHub (TheHub is an online job portal that we use to handle all our applications – it's important you apply for the position via TheHub) and attaches:
Your resume.
A well-written application.
2-3 text examples that you have written (it can be a post for social media, an email, a good school assignment, etc.).
In connection with an interview, you will be given a minor case assignment to test your writing skills. You will solve the case from home a few days before our interview.
We look forward to receiving your application!
We don't have any open positions for English applicants in marketing at the moment.