Meet our new Event Coordinator Intern in Twentyfour, Catalina.
Catalina will be doing everything from writing content for SoMe platforms, blogs, and landing pages to managing big crowds during webinars, conferences, and events. Right now, covid-19 has unfortunately put a natural stop to our physical events, but Catalina has quickly reorganized and is working on setting up some cool online events! And considering her expertise in organizing and overseeing events, this is something we are truly looking forward to at Twentyfour.
When Catalina is asked to describe herself with three words, she says:
"I would describe myself as A Motivated and Self-driven Creative" – and there's no one here that would argue with Catalina on her creativity, which we quickly noticed with her cool adaptivity and many ideas for how to create events during covid-19.
And, of course, we have to talk about the sushi keychain in the picture.
The sushi keychain is Catalina's absolute favorite thing! She says it's a great conversation starter and a good way to break the ice when meeting new people.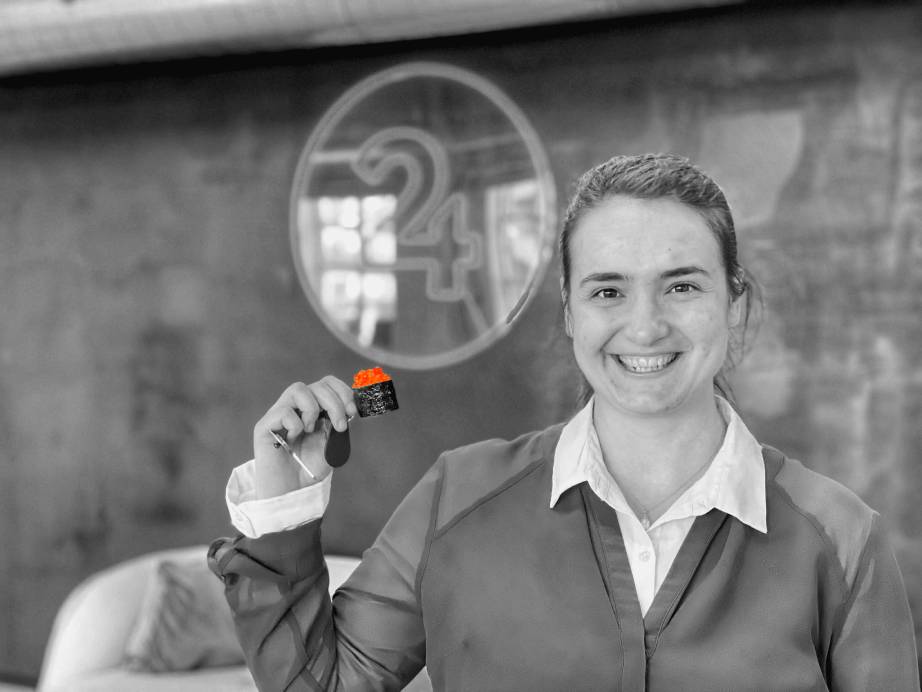 Catalina went to acting school in London and has since worked as a freelance event manager for years. She started out as a theatre producer in London, where she co-founded a theatre and applied for funding and organized all practicalities when touring in the UK. When she moved to Copenhagen, she was in the organizing team of several festivals and shows, theatre plays at Krudttønden, and TeaterBattle at Huset, while also organizing her own events. We are very much looking forward to benefiting from all of Catalina's drive and experience!
On Catalina's days off, you'll most likely find her watching some improv comedy and wearing the biggest YES-hat 🤠
Welcome to the team, Catalina.